>> Sunday, July 20, 2008
Lately, sangat banyak perkara yang perlukan attention.
Kerja yang itu ini.
dan personal life yang agak serabut.
Buat hidup sangat bizis dan kelam kabut.

Untuk berwindow shopping seperti biasa pun udah tak sempat.
Tapi at least aku suda sampai ke Tesco Extra baru di Plentong nuu.
Takde apa pun.
Yang bes cuma sebab ada dua tempat peberet aku di situ.
Big Apple and that Shakey's.

Ya, Shakey's di JB!
Truly miss d lasagna.
Lepas pindah ke Jhr satu hapa makanan sedap pun tadek.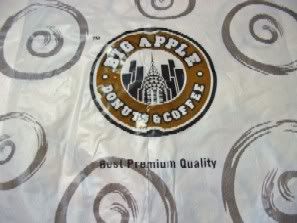 Dan ya, akhirnya Big Apple pun suda di JB juger.
GreenApple la ni yang buat aku dok mengidam makan donut kat situ.
Pertama kali ke sana aku beli 3 donut - The Alien, Chocochino and yang stoberi tu.
Cadangnya mau rasa The Alien itu sajer. Dan lagi dua mau diberi pada my fren.

Cadangnya la.

Tapi tanpa sedar tiga-tiga dihabiskan dalam masa beberapa minit sajer.
*hah patut la dia cakap aku makin chubby ye

Sekian.
Read more...