>> Saturday, September 6, 2008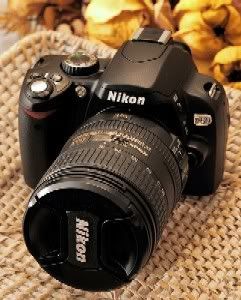 The compact 10.2-MP D60 delivers breathtaking picture quality and the versatile handling of a D-SLR, yet is incredibly compact, easy and fun to use.

With fast startup and split-second shutter response, the D60 eliminates the frustration of shutter delay, capturing moments that other cameras miss.
-----
Whoaaa I
so-soo-sooo
d very want this camera!
Since last year waktu mandang kali pertama.
soooo d very delicious!
A few days ago nemankan my fren to survey cameras.
Tapi hampir-hampir la diri sendiri yang membeli.
haih.
Last week already spent 600++ for my facial set.
and another hundreds for a Franck Olivier parfume.
and another for books, clothes,
etc etc etc.
haihhh.
sangat la spendthrift lately.
So, that thing will only be in my wishlist for next year.
Tahun ineh suda sangat banyak wishlist yang tercapai.
Telah sangat sengkek.
-----
uh anyway, u... thanks for the new handbag yer.
really luv it.. *wink*